Ventilation solutions for sub floors
A damp sub-floor can be the perfect area for mould growth which can cause stale and musty odours to permeate into living areas.
Damp in the sub-floor can also lead to rot and provide an environment that encourages termite activity, threatening the structure of your home. EcoFAN's high flow rate exhausts damp air from your subfloor helping to protect your family and your home.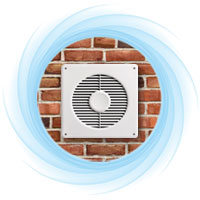 Under floor powered ventilator with interchangeable exhaust or inward air flow capability, mounted into the exterior wall under the ground floor level of the home.